It is with the involvement of everyone that we carry on with our commitment.
BRF Sustainability Plan
In line with the Sustainability Policy, in 2020 we also launched the BRF Sustainability Plan, which has 22 commitments to increase our transparency and reinforce 5 ambitions by 2030:
1.Act in synergy with our partners and positively impact the communities
2.Innovate and obtain sustainable solutions to global challenges
3.Promote animal welfare
4.Be inclusive, plural and diverse
5.Preserve the environment and be eco-efficient
We have established transversal commitments to ESG aspects, connected with BRF's Vision 2030. Our work focuses on topics such as diversity, combating waste and climate change, efficient management of natural resources, animal welfare and social investment.
BRF is committed to not cutting nozzles in broiler chickens, not cutting ears and teeth in pigs, cutting wings in egg producing chickens and tail cutting in cattle. BRF has been committed to avoiding mutilation and eliminating these practices as far as possible. All surgical intervention should only be done to avoid pain and suffering to animals, such as tail cutting in pigs.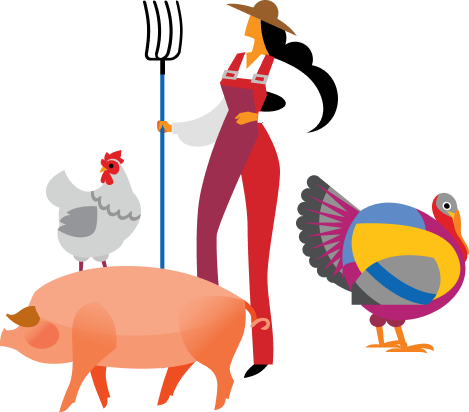 Public goals
MAIN AW GUIDELINES:
1. The main AW guidelines are set out in the document that was updated in 2019 and we show a commitment at all levels of the company to animal welfare: 2. Ensure no use of growth promoting antibiotics in the animal breeding chain.
Since the beginning of 2019, BRF has not used antibiotics as growth promoters in its poultry and pig farming chain globally.
3. Use environmental enrichment (environmental improvement) in 100% of the integration of broilerchickens and pig until 2025.
The environmental enrichment used to allow animals to express their natural behaviors in their fullness should meet pillar 4 of the BRF Animal Welfare program as well as Natural Behavior.
For 2021, we intend to deploy pecking objects in 100% of BRF's turkey chain worldwide. For the chicken and pig chains, the implementation will take place effectively from 2022. In 2021, we are testing the best tools (for example, perches for chickens) to fulfill the commitment and finalize the standards of these chains.
Know more at: https://www.brf-global.com/en/sustainability/animal-welfare/our-responsibility/
4. To certify 100% of BRF plants in animal welfare until 2025.
As a goal of more and more transparency, the goal of certifying all manufacturing units globally assuring the standardization of processes and the execution of the best animal welfare practices while maintaining the quality in everything we do.
Repeating the religious and/or cultural requirements demanded by our clients.
Today, about 55% of our pig slaughter processes are certified by third parties, which endorses the work carried out in our factories. For chicken, this percentage is 39%. The goal for 2021 is to go from 34% of certified processes to 42% considering all species.
1. Globally employ only cage-free chicken eggs in industrial food processes by 2025.
BRF has made a commitment that by 2025 it will no longer buy eggs from suppliers who raise chickens in cages in all its industrialized food production processes. We use eggs in the production of our industrialized companies such as: pizza, pies and cheese bread. The commitment to use cage-free eggs is 100% met in the BRAZIL operations (use of eggs 100% certified by Certified Humane), which represent 56% of the eggs used at BRF globally. In the other operations (Turkey, we are working hard to find alternative proteins and/or suppliers that can meet the demand.
2. Ensure that 100% of the birds in the BRF integration system globally are cage-free by 2023.
Although it is not a system being implemented in Brazil, the breeding of caged chickens takes place in several countries, including Turkey, where BRF has agricultural operations. The company acquired in Turkey (Banvit), has in its integration system caged broiler chickens. The objective of this commitment is to make 100% of the poultry operations cage-free globally in accordance with the Cage free commitment for the eggs used in our global industrial operations. It is worth mentioning that no birds are caged at BRF Brazil.
1. Implement 100% collective management bays for swine matrices until 2026.
Our commitment is based on the European Union legislation, Directive 120 of 2008 on the protection of pigs.
In the collective bay, the female interacts and has even more conditions to express her natural behavior. The reduction of confinement also avoids stress, besides sanitary and physiological problems that are caused by the possibility of little movement.
In 2016, adjustments to the collective gestation system benefited 20,950 breeding sows, totaling, since 2015, 103,000 breeding sows in collective gestation crates, accounting for 20% of the BRF nursery beds.

2016 was a tough year for the Brazilian economic scenario, which retracted funding sources for these activities, considering that BRF purchased nursery beds that were not in line with the system recommended by the company.

We have met the goal for 2019 and have 35% of our stock of breeding sows in a group housing system for pregnant sows. This means more than 140,000 sows in suitable facilities, in line with the best animal welfare guidelines.

WWe exceeded the proposed target for 2020 (expected to be 40%) and we have 45% of the sows in the collective gestation system. This means more than 180,000 females in adequate facilities according to the best practicies of animal welfare, being able to exercise their natural behavior of socialization among individuals and move freely in the facility.

Although we have increased our total team of sows in recent years and with the challenging scenario generated by COVID-19 in 2020, we propose to advance in meeting our commitment to animals.
Improving more and more our practices, we try to realize the possible minimum of physical changes in the animals and for this we commit ourselves:
2. Ensure that 100% of pigs raised in the BRF are not identified * through mutilations until 2021.
We made the commitment in December 2020, when 99% of our global pig population was identified by tattoo or ear tag. In the year 2021 we have anticipated the commitment and 100% of our global pig population will not undergo any physical change for animal identification and traceability.
3. Ensure that 100% of pigs raised in BRF do not undergo tooth cutting and wear until 2021**.
Teeth removal from piglets is a routine practice employed in modern pig farming to reduce the incidence of skin lesions on the piglets' faces and sows' teats. However, this practice already has alternative managements that allow it to no longer be used. Currently, 100% of our global population is free from this mutilation routinely.
4. Ensure that 100% of male pigs are not castrated surgically until 2022 ***.
Currently, 99% of the global population of male pigs undergo immunocastration, which allows the animal to not undergo any surgical intervention to be castrated. We are conducting studies and testing to verify the possibility of using immunocastration also for males who provide raw material for the manufacture of special hams. Thus, we can state that 99.5% of BRF's pig population does not undergo a surgical procedure for castration.
5. Guarantee the use of analgesic for 100% of the pig tail cutting procedures until 2025.
* Pigs are identified by a numbering that guarantees the traceability of the animals.
** In extreme cases (when the welfare of the matrix is compromised) the practice will be admitted.
*** Guarantee that when surgical castration is necessary for the production of specific products, it must be performed with the use of analgesics and anesthesia.
The commitments go against the 3T's practices and the 4Rs concept:
Reduce: Reduce the number of physical changes
Refine: Refine/Optimize processes
Replace: Replace practices
Responsibility: Responsibility for animal management practices