We continue with an attentive and integrated look at Animal Welfare.
In an increasingly responsible manner and in line with ethical principles, BRF is always working to positively transform its entire production chain. For this reason, it promotes the best animal welfare practices in an integrated and comprehensive manner, with everyone who is part of its chain, including as partners and supplier.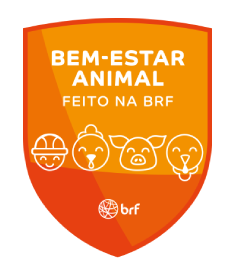 Our global program Animal Welfare Made in BRF sets our rules for raising, transporting and slaughtering animals, establishing policies, standards, processes, indicators and continuous training, while respecting the environmental, cultural, climatic or religious specificities of each location where we operate. The program includes assessment of gaps and opportunities, with a short, medium and long-term action plan.
Animal welfare made in BRF
The Animal Welfare program is based on the concept of the 5 domains of Animal Welfare, which considers the physiological state of animals, their behavior and mental state. This concept is a development of the 5 freedoms established in 1979 by the Farm Animal Welfare Council (FAWC).
1

Nutrition
Proper consumption of nutritious food for a pleasant experience.
2

Environment
Good conditions that offer comfort and safety.
3

Health
Animal care procedures for robustness and vitality.
4

Behavior
Varied activities and rewarding challenges.
5

Mental state
Prioritizing comfort, interest and trust to avoid negative experiences.
Animal welfare experts across the BRF chain
We have Animal Welfare Officers throughout the BRF production chain, from the breeding stage, through transport and delivery. These professionals are leaders, role models in their area of expertise and have autonomy and authority over the process.
ANIMAL WELFARE MADE IN BRF
For all of this to run smoothly, BRF created the program Animal Welfare Made in BRF. This Program has existed since 2015 and works around six pillars:
5
Humanitarian management
6
Capacity-building and awareness-raising
The program Animal Welfare Made in BRF engages multiple company teams at all levels, including the senior management.
The key indicators and the evolution of public commitments are discussed monthly by the directors of operations (agricultural and industrial), as well as in the Vice-Presidency of IRIS (Institutional, Reputation, BRF Institute and Sustainability).
There is also a diverse group of specialists available. All decisions regarding animal care and facilities are subject to approval by the technical teams.
Below is the governance assigned to address this commitment
In 2022, the area became part of the Vice Presidency of Agriculture and Quality, Sponsor of the Animal Welfare Program Made at BRF, and which is in line with the CIEX Agricultural and Sustainability directorates. The Animal Welfare Management is made up of veterinarians and zootechnicians fully dedicated to the negotiations and advancement of the theme, demonstrating the importance of the theme for BRF.
The team also follows the evolution of animal welfare indicators, monitoring, committees, decision-making and training related to the topic.
In addition, we have multidisciplinary working groups for specific topics involving several areas of the company, like Operation, Quality, Planning and Procurement.
BRF promotes consumer education on animal welfare through web series on the subject available on the company's website and also YouTube. In addition, we carried out posts on the topic on the social networks of the company as Facebook, LinkedIn and Instagram. We are also communicating animal welfare to our consumers through the Sadia BIO and Sadia Organic line, that make reference to the animal welfare differential for these two lines.
We also participate in webinars of other entities bringing the theme of animal welfare within the focus of sustainability.
Continuous progress supported by partners
We seek to identifying opportunities for improvement that have proven to contribute to the welfare of animals, so since 2014, we have been collaborating with the NGO World Animal Protection (WAP). With the WAP, we track the actions taken and measure our progress on a quarterly basis.
We participate in animal welfare discussions with sectoral entities, such as the Brazilian Animal Protein Association (ABPA) and the International Poultry Council, of which we are members.
Besides, by sharing our technical knowledge and providing access to our production units, we generate knowledge and research within the Brazilian reality, through institutions such as EMBRAPA (Brazilian Agricultural Research Corporation), University of São Paulo (USP), Federal University of Rio Grande do Sul (UFRGS) and Federal University of Paraná (UFPR).
We are active members of the 3Ts Alliance group, the World Animal Protection and we work with a group of global experts who work collaboratively to study and eliminate tail cutting, tooth cutting and surgical castration of pigs. The ultimate goal of the Alliance is to use the information gathered to develop an evidence-based case to be brought to the industry on a global scale, to support the welfare of pigs.
International ranking Business Benchmark on Farm Animal Welfare (BBFAW)
BRF's commitment and transparency are recognized for its presence in the international Business Benchmark on Farm Animal Welfare (BBFAW) ranking, occupying level 2 of the ranking for two consecutive years (2016 and 2017) and is currently allocated to level 3 (2018, 2019 and 2020). The Business Benchmark on Farm Animal Welfare is an animal welfare ranking with global reach. Companies are classified according to their responsibility and commitment to good animal welfare practices. The categories evaluated are: Commitment and Policy Management, Governance and Implementation of Policies, Leadership and Innovation and Performance and Impact Reports.
In 2020, BRF is classified under the animal welfare theme in the Farm Animal Investment Risk and Return(FAIRR), which is the network of investors focused on ESG risks in the global food sector as Low Risk.
BRF S.A. Global does not buy products of animal origin and/or animals from genetic engineering or cloning, so we do not carry out this practice in any of the countries in which we are present. This commitment is valid for all species that participate or will participate in our value chain and for all countries where we have operations.
Learn more
Take a look at the company's business case in the booklet UN Global Compact Food and Agriculture — Business Principles as Guidelines for the Sustainable Development Goals.
Our responsibility
The basis of our chain are the animals and ensuring animal welfare is fundamental at BRF. That is why we work to improve the quality of life of animals both in and out of BRF.