Being part of something bigger requires responsibility and transparency.
We are part of the lives of thousands of people, offering quality food. And that requires responsibility in the way we produce. Business transparency and ethics.
That is why we are constantly pursuing evolution.
Discover some of the initiatives that are part of the way we work.
We respect the environment all across our production chain.
BRF only trades grains with companies that are committed to its strict internal rules, with the environmental laws and forest preservation. To reinforce its supplier monitoring and education efforts, in 2019, the company became a partner of the Collaboration for Forests and Agriculture initiative with the objective of applying the best practices in the sustainable management of the soy chain.
SUSTAINABILITY
Focus on the evolution of sustainable practices
We strive for sustainability by boosting the efficient use of natural resources and control of GHG emissions. We monitor, mitigate and invest in reducing environmental impacts.
100% of integrated producers are monitored for compliance with animal welfare and environmental laws.

100% of the water is returned to the environment after proper treatment.

31,000 hectares of planted forest spread across eight Brazilian states (RS, SC, PR, MS, MT, MG, GO, PE) were maintained in 2019, helping with climate regulation.

93% of the energy sources are renewable

BRL 150 million invested to decrease environmental impacts in Brazilian and international operations
ANIMAL WELFARE
Animal Welfare Commitments
The animal welfare practices adopted follow national and international parameters.
In addition to these, we have partners that include the World Animal Protection (WAP) in Brazil, an international reference NGO, and multiple certifications.
Learn More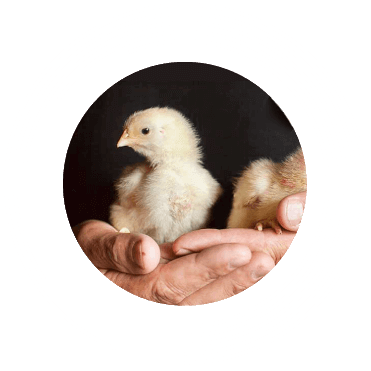 Nutrition Proper consumption of nutritious food for a pleasant experience.

Environment
Good conditions that offer comfort and safety.

Health
Animal care procedures for robustness and vitality.

Behavior
Varied activities and rewarding challenges.

Mental state
Prioritizing comfort, interest and trust to avoid negative experiences.
PARTNERSHIPS
CERTIFICATIONS
Global Pacts and Agreements
Corporate Governance
Integrated vision combined with transparency and ethics
Dialogue and our way of doing business with social and environmental responsibility allowed us to return, in 2019, to the Corporate Sustainability Index (ISE) of B3, the Brazilian stock exchange.
We also made progress in the statements of our main practices, financial and operating results, which are fully integrated and audited.
Learn more about our business performance. Download the 2021 Integrated Report of BRF..
Learn More