Formed by a multidisciplinary team of veterinary doctors, biologists, chemists, engineers, food engineers, administrators, pharmacists, biotechnologists, biomedical, among others, BRF laboratories aim to map, through microbiological, bromatological, waste, packaging and sensory quality, the quality and safety of our products.
Thinking about the consumer and our customers, which are our biggest reason and patrimony, we also monitor the nutritional table in 100% of the packaging of our products, as required by ANVISA (National Agency for Sanitary Surveillance). At BRF, this nutritional labeling is monitored through laboratory analyzes on all items, with the aim of guaranteeing the consumer greater safety and wellbeing during the consumption of the products.
Analyzes of nutritional compositions are carried out at BRF industrial laboratories. Laboratories are always up-to-date with the requirements of national and international markets, official bodies and specific standards of importing countries.
OUR NUMBERS
Always thinking of improvements in the new diagnostic technologies, BRF laboratories have expressive numbers of actions that collaborate to guarantee the final quality of the products offered in the supermarkets. So, today we work with: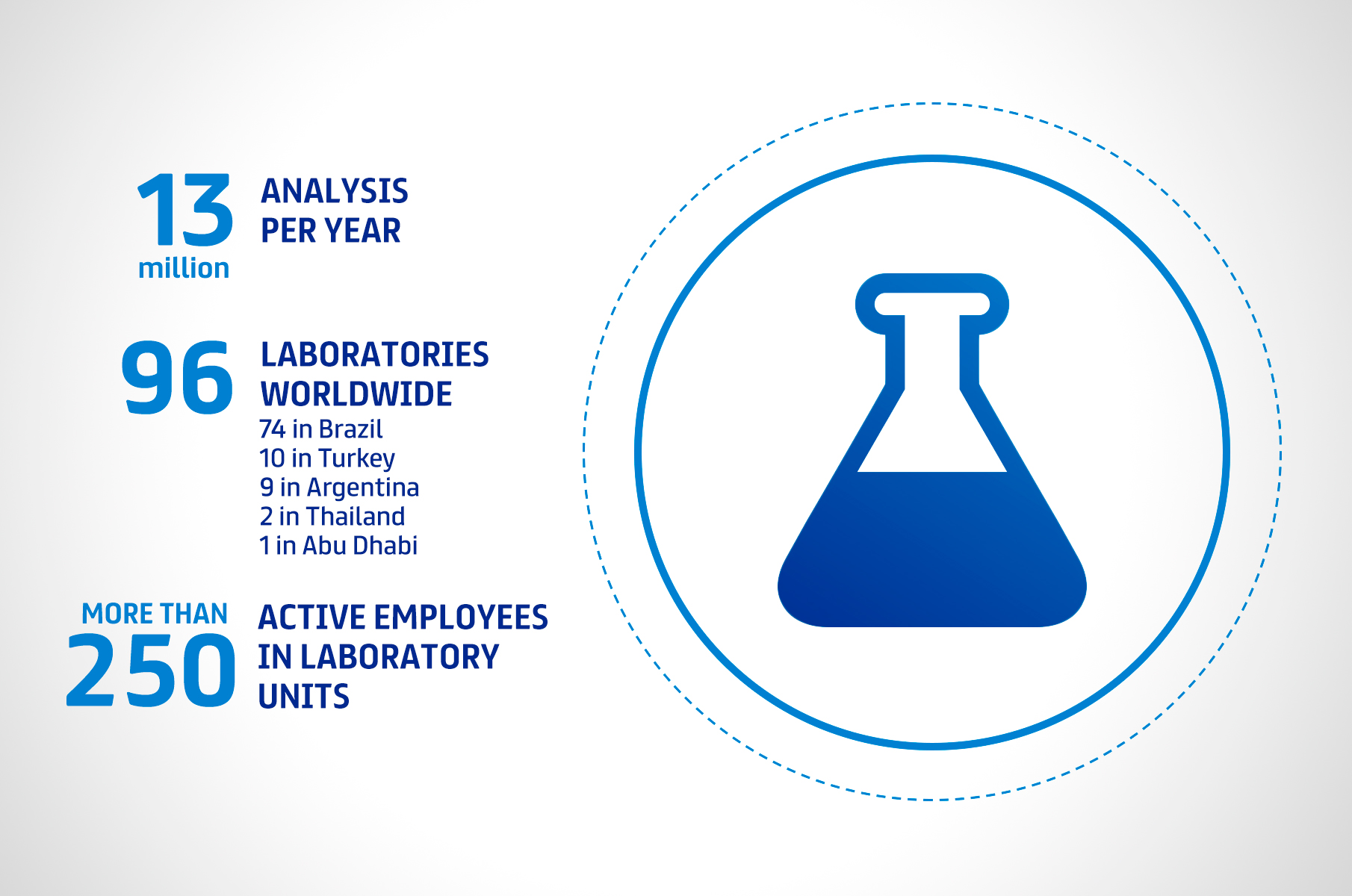 Meet Our Labs
We are committed to the constant development of reference practices in animal welfare, public health and food safety. To support such responsibility, all of our animal health laboratories maintain scope of testing accredited to ABNT NBR ISO/IEC 17025. Together with General Coordination of Accreditation of Inmetro (Cgre), they have the active Certificate of Laboratory Recognition (CRL), whose scopes can be consulted on the Inmetro website, clicking here.
We are committed to the development of reference practices in animal welfare, public health and food safety through animal health laboratories, with constant diagnoses of health (complete bacteriological analyzes, molecular analyzes by real-time PCR), genetic sequencing of genomic, metagenômica, analysis, mycology, virology, parasitology, antibiograms, water analysis, semen, salmonella research salmonela, salmonella typing by microarray, necropsies and feed quality.
We work in partnership with national and international agencies to add the maximum technological apparatus in laboratory diagnostics, preventive monitoring and epidemiological veterinary studies, such as the classification of salmonella by microarray, through in gives Check-Points.
Além de cumprir as legislações sanitárias nacionais e internacionais IN20 (MAPA), Portaria Nº. 710 (MAPA), Portaria N°. 211 (MAPA) e Portaria Nº. 126 (MAPA), não medimos esforços em pesquisa e inovação para cuidar da saúde dos nossos animais e prevenir possíveis doenças, evitando uso de medicamentos.
Continuing the controls performed by the animal health laboratories, the industrial laboratories monitor the manufacturing process, performing tests on all the items that are part of this process, including raw material, inputs, packaging, equipment, until the arrival of the food to the consumer Last.
Committed to ensuring the quality of the tests performed, the laboratories are in constant technical update and use state-of-the-art technologies, respecting national and international standards and laws. They maintain partnerships with bodies of reference in the national and international market and scope of accredited tests, following the ISO / IEC 17025 ABNT NBR, with the General Coordination of Accreditation of Inmetro (Cgcre), with active CRL and CFL, whose scopes can be consulted in the Inmetro website, clicking here.
BRF animal and industrial health laboratories monitor all The production chain, from the raw material, rations, hatcheries and farms (field) until obtaining the final product, where everything that comes into direct contactThe or indirectly it is rigorously analyzed following official normative methods (AOAC, AFNOR, ISOs, among others) or developed internally with validations.