As a global company, we have a responsibility to promote the sustainable use of natural resources in our value chain. Our goal is to protect and conserve the environment in the locations where we operate, in addition to managing the product portfolio with a focus on reducing post-consumer impacts. Aware of our responsibility in the face of a critical resource such as water, we follow strict quality standards that guarantee compliance with all regulations, both from the point of view of quality and quantity, systematically observing the limits of our water and effluent grants. As a reflection of our conscientious performance, we have established a sustainability commitment that challenges us to reduce BRF's water consumption indicator by 13% by 2025.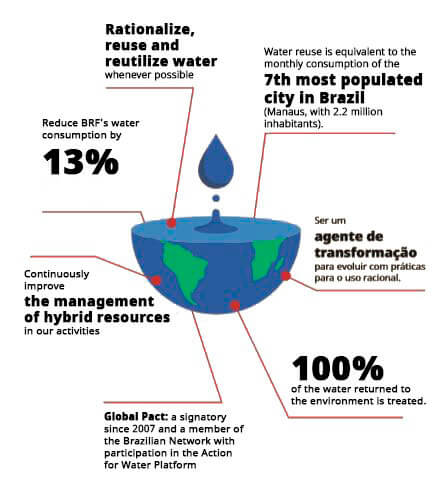 We have established practices for the governance of our water and effluent treatment systems, where through indicators and indices, in addition to ensuring compliance with legal requirements, we can have an agile and assertive decision making process, in order to guarantee efficient use prioritizing the reuse and reutilization of water, whenever possible. In the chain, through our Code of Conduct for Business Partners, we inform about the need to maintain regularity with environmental legislation, which includes water use grants and their conditions.
It is also our practice to monitor the quality of the rivers where we capture and discharge our effluents, after proper treatment, this is one way to assess and understand the specific impacts of our companies in the regions where we operate and, through an anticipated management, seek harmonious coexistence with the environment.
Regarding risk management due to water scarcity, we analyzed the hydrographic basins that comprise the regions of our industrial activities and the characteristics of use of local water resources, in order to understand the growth in local demand and measure our exposure to the lack of water. Through a Hydric Vulnerability tool developed internally based on global methodologies, two complementary analytical approaches are applied: an internal operational look, related to our routines and activities; and an external, environmental look, linked to the characteristics of the watersheds where the enterprise is inserted and to the multiple uses of water in the regions. These approaches have their indicators integrated, allowing the quantitative synthesis of water vulnerability.
Governance and management of water resources in our operations, in an expeditious manner, aim to:
Standardize, maintain and improve water management.
Control, measure and monitor water resources.
Record information about water resources according to the procedures established in this document.
Establish monitoring indicators and targets to promote the sustainable use of water resources.
Ensure compliance with legal obligations, the HSE Policy and the BRF Sustainability Policy.
Rationalize, reuse and reutilize water whenever possible.
Promote education for the rational use of water.
Be an agent of transformation to evolve with practices for rational use.
Continuously improve the management of water resources in our activities.
Follow the BRF Integrated Report, all projects and actions that have been modernized over time.