MISSION, PURPOSE AND BUSINESS STRATEGY
In recent years, we have held the ambition to make BRF the most relevant and inspiring food company in the world, with a business model that appreciates the end consumer, the strength of its brands and the robustness of the production chain.
As part of this ambition, we have consulted with multiple internal and external stakeholders with the objective of getting insights about the key themes of the present and the future, and the social, environmental and economic impacts from our activities. Many stakeholders, such as clients, suppliers, consumers, BRF employees and members of senior management, identified the relevance of industry-sensitive issues and the company's business model, including animal welfare practices.
BRF recognizes that appreciating natural capital in its production processes and relationships is key and it acknowledges its full responsibility as a promoter of sustainable development. For this reason, we work continuously on large fronts that include not only our own operations, but the chain as a whole, including human development, eco-efficiency, and others.

Crédito: World Animal Protection Brasil (WAP)
BRF wants to positively transform its entire global chain by performing in an increasingly ethical and responsible manner. Animal breeding is at the core of our activities. Therefore, animal welfare is naturally a motivation and a responsibility for our company, and we foster it not only within, but also out of the BRF universe (with our partners).
At BRF, we breed broilers and their previous chain (mothers and grandmothers), turkeys and their previous chain (mothers and grandmothers) and pigs (great-grandmothers, grandmothers, parent stock and finishing animals). The agricultural production of turkeys and pigs takes place solely in Brazil, while broiler chicken is bred both in Brazil and in Turkey. Beef products (dairies and meats) are produced by audited suppliers.
We have structured our practices and commitments through the global program Animal Welfare Made in BRF, which establishes policies, standards, processes, indicators and continuous training, respecting the environmental, cultural, climatic or religious specificities of each location where we operate. With this program, we want to follow a path built upon a solid foundation worldwide. The program includes assessment of gaps and opportunities, with a short, medium and long-term action plan to achieve our global objective of maximizing animal welfare.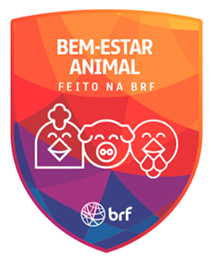 To further support the program, since 2014, we have been collaborating with the NGO World Animal Protection (WAP), which is a partner in identifying opportunities for improvements that have proven to contribute to the welfare of animals. Together, we seek continuous progress in the processes involving animals.
Regular meetings are held with focal points to monitor the actions developed, as well as the Technical Groups in which ongoing projects are discussed. Also, the indicators established with the WAP are shared on a quarterly basis to measure the progress of BRF on the subject.
OUR ACTIONS
BRF's commitment and transparency are recognized by its presence in level 2 of the international Business Benchmark on Farm Animal Welfare (BBFAW) ranking for two consecutive years (2016 and 2017) and its current position in level 3 (2018 and 2019).
The company has a business case in the booklet UN Global Compact Food and Agriculture — Business Principles as Guidelines for the Sustainable Development Goals.
As part of the dissemination of animal welfare content, in August 2019, we presented the Animal Welfare Program Made in BRF at SIAVS (International Poultry and Pig Breeding Exhibition), which took place in São Paulo. In the program of talks at the BRF stand, the topic was discussed so that the general public received information about the activities carried out at the company.
Our performance is guided by the public BRF Animal Welfare Commitments, globally enforced in all stages of our production process. These commitments are guided by standards that go beyond Brazilian and, on some levels, international standards and legislations, as well as by the five freedoms of animals established by the Farm Animal Welfare Council (FAWC), which are:
1
Physiological
freedom
animals free from
hunger, thirst and
malnutrition.
2
Environmental
freedom
animals free of
discomfort
3
Health
freedom
animals free of
aches, injuries and
diseases.
4
Behavioral
freedom
animals free to
express their
natural behavior.
5
Psychological
freedom
animals free
from fear
and anguish
We have Animal Welfare Officers throughout the BRF production chain, which means we have ambassadors on animal welfare from the breeding stage, through transport and delivery. These professionals are leaders, role models in their area of expertise and have autonomy and authority over the process.
We actively participate in discussions on animal welfare in sectorial entities, such as the Brazilian Animal Protein Association (ABPA) and the International Poultry Council, of which we are members. Besides, by sharing our technical knowledge and providing access to our production units, we generate knowledge and research within the Brazilian reality, through institutions such as EMBRAPA (Brazilian Agricultural Research Corporation), University of São Paulo (USP), Federal University of Rio Grande do Sul (UFRGS) and Federal University of Paraná (UFPR).
We are active members of the 3T Alliance group, with World Animal Protection and we work with a global group of experts who work collaboratively to study and reduce physical changes made to animals, including tail cutting, tooth cutting and surgical castration. The ultimate goal of the Alliance is to use the information gathered to develop an evidence-based case to be brought to the industry on a global scale, to support the gradual elimination of painful procedures for the welfare of pigs.