Animal Breeding And Health
Our animals are not genetically modified and do not receive hormones at any stage in our breeding system.
Medicines and vaccinations are solely handled by recommendation of our veterinarians upon on-site visits to assess the clinical condition of the animals, in line with the guidelines internally established by the company and its specialists, and with legislations and client regulations.
Contracts between BRF and integrated producers determine that any intervention with the animals bred must be carried out solely by the company, including any treatment, including non-drug treatments. The company also has a network of laboratories that help identify the causes of problems with the animals, and speeds up decision-making by releasing quick results.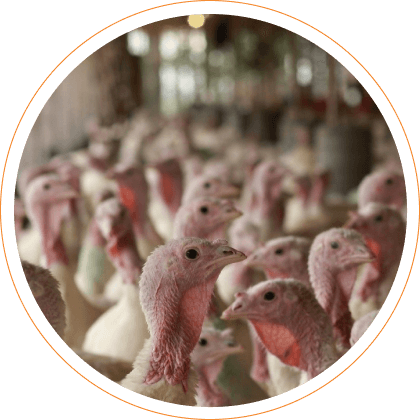 BRF does not use antibiotic growth promoters in the breeding of poultry and pigs and seeks continuous process improvement, enabling the gradual reduction of medicines throughout the chain. We firmly believe in the concept of responsible use of antibiotics so we follow biosecurity and animal welfare procedures that help us maintain the use of antibiotics restricted to the necessary.
Since mid-2018, 100% of our breeding activities have been free of antibiotic growth promoters (AGP-Free). When antibiotics are to be used to treat illnesses, they are prescribed by a veterinarian. The waiting period for each active ingredient is strictly followed. BRF personnel take the products to our integrated partners and teach them how to use.
The company has an internal policy on the use of antibiotics in the poultry chain in Brazil, developed by veterinarians specializing in animal health for agricultural purposes. This document describes the general guidelines on antibiotics and how the company has been addressing this issue.
Besides, BRF has reduced the use of antibiotics considered by the World Health Organization (WHO) to be critical for use in human medicine. No antibiotics considered to be highly critical and important for human health by the WHO (HPCIA — Highest Priority Critically Important Antimicrobials) are used in the poultry chain in Brazil. We are working to reduce the use of these active ingredients in the pig breeding chain and to withdraw them from poultry production in Turkey.
As an alternative to antibiotics, vaccines, prebiotics and probiotics are used in animal food. All of these improvements would not have been possible if we did not follow animal welfare guidelines. Animals under welfare experience have fewer periods of stress, which helps to keep their immune system strengthened to fight pathogens.
In September 2020, we will release a policy on the use of antibiotics in the pig breeding chain.
With the objective of making progress in welfare initiatives, we have part of our production working with ongoing environmental enrichment practices.
We have developed protocols and use different tools to find out mechanisms to encourage the natural behavior of our animals, helping to reduce stress and improve health conditions, such as:
For the pig breeding chain, the use of chains, ropes and straw has been gradually implemented in the breeding environments;

For the poultry chain, we use perches, bales of wood shavings and other pecking tools in many parent stock, turkey and broiler breeding farms.